Fiberlite F6-10x1000 LEX Carbon Fiber Rotor Each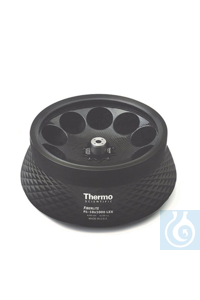 Die Abbildung kann abweichen und Zubehör enthalten, das sich nicht im Lieferumfang dieses Artikels befindet.
Bestell-Nr.: 096101001
46.246,89 €
für 1 Stück inkl. gesetzl. MwSt. (19%) zzgl. Versandkosten
Fiberlite F6-10x1000 LEX Carbon Fiber Rotor
Accelerate bioprocessing with the 10-liter capacity and an RCF of up to 12,000 x G of the Thermo Scientific™ Fiberlite™ F6-10x1000 LEX rotor.
Batch biprocessing with the Thermo Scientific™ Sorvall™ RC BIOS A centrifuge system.
High throughput reduces cycle times by spinning up to 10 x 1 liter bottles in a single spin.
Enhance productivity with Fiberlite carbon fiber rotors
Unequalled structural integrity:

Fatigue resistance eliminates the need to derate or limit the speed over the rotor lifespan
Corrosion-resistant design protects against ever-present hazard due to moisture, chemicals, alkaline solutions or other salts in the laboratory

Load tubes directly into the rotor, eliminating multi-canister assemblies, which can be misplaced or damaged
Secure investment, backed by a 15-year warranty
Ordering information: Order rotor body (096-01001) for complete assembly. Rotor Body comes with a set of Thermo Scientific Fiberlite Superspeed PPCO bottles 010-1491. For rotor care kit, order 021-101001; Lid assembly, order 099-101001;  Contact your sales representative for information.
Compatible with: Thermo Scientific™ Sorvall™ RC BIOS A, Thermo Scientific™ Fiberlite™ superspeed bottles (010-1491 and 0101-1492)
Bezeichnung: Fiberlite F6-10x1000 LEX Carbon Fiber Rotor
Material: Carbon Fiber Composite
Typ: Carbon Fiber Rotor
Fassungsvermögen: 10x1000 mL
Max. RZB: 12,000 x g
Max. Drehzahl: 6,250rpm
Radius (metrisch): 274mm
Min. Radius (metrisch): 124mm
K-Faktor: 5135
Max. Tube Length: 195mm
Max. Tube Diameter: 98mm
Biocontainment: No
Zur Verwendung mit (Geräte): Sorvall BIOS A Centrifuge
Zur Verwendung mit (Geräte): Sorvall BIOS A Centrifuge Heavy duty
Winkel: 25 degrees
Autoklavierbar: yes
Durchsch. RZB: 12,000 x g
Enthält: Complete with set of 10 bottles
Anz. der Plätze: 10
mehr
Artikel-Nr:

096-101001

Gültigkeit:

31.12.2023

Letztes Update:

31.05.2023